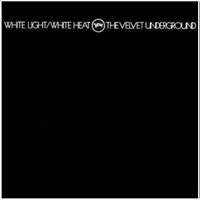 Rok wydania
1968
Wytw鏎nia
Verve Records
Nr. katalogowy
V6-5046
Czas trwania p造ty
40:14
Gatunek
psychedelic rock/noise rock/experimental
Utwory
1. White Light/White Heat (2:47)
2. The Gift (8:19)
3. Lady Godiva愀 Operation (4:56)
4. Here She Comes Now (2:05)
5. I Heard Her Call My Name (4:38)
6. Sister Ray (17:27)
Muzycy
Lou Reed (Lewis Allan Reed)(2.03.1942 Brooklyn, New York † 27.10.2013 Southampton, New York) - Vocal, Lead guitar, Piano
John Cale (John Davies Cale)(9.03.1942 Garnant, Carmarthenshire, Wales, United Kingdom) - Vocal, Electric Viola, Organ, Bass Guitar
Sterling Morrison (Holmes Sterling Morrison, Jr.)(29.08.1942, East Meadow, New York † 30.08.1995, Poughkeepsie, New York) - Vocal, Guitar, Bass Guitar
Maureen Tucker (Ann "Moe" Tucker)(26.08.1944 Jackson Heights, Queens, New York City) - Percussion
Words & Music: Lou Reed (1,3,5)
Words: Lou Reed; Music: Sterling Morrison, John Cale, Maureen Tucker, Lou Reed (2,4,6)
All compositions BMI
Produced by Tom Wilson
Recording Engineer: Gary Kellgren
Director Of Engineering: Val Valentin
Remastered by Greg Calbi at Sterling Sound, New York
Mastering Consultant: Dennis M. Drake
Mastered by Bob Ludwig at Gateway Mastering, Portland, Maine.
Cover Photo: Billy Name
Liner Photo: Mario Anniballi
Cover Design: Acy R. Lehman
Cover Concept: Andy Warhol
This record has been engineered and manufactured in accordance with standards developed by the Record Industry Association of America, Inc., a non-profit organization dedicated to the betterment of recorded music and literature.
Originally released January 1968 as Verve V/V6-5046
®© Metro-Goldwyn-Mayer Inc./Printed in U.S.A.
---
1968 (Verve Records V6-5046) LP (US/CA)
1968 (Verve Records V-5046) LP (US) mono
1968 (Verve Records V-5046, V/V6-5046) LP (US) mono
1968 (Verve Records VCB-85046) 8-Trk (US)
1968 (Verve Records F-14-5046) 4-Trk (US)
1968 (Verve Records VVX 55046) MC (US)
1968 (Verve Records V-5046) LP (CA) mono
1968 (Verve Records, MGM Records SVLP 9201) LP (GB)
1968 (Verve Records VLP 9201, VLP.9201) LP (GB)
1968 (Verve Records 710 015) LP (D)
1971 (MGM Records 2353 024, 2353024) LP (GB)
1973 (Polydor 2353 024) LP (NL)
1974 (MGM Records M3F 4950, SW-95722) LP (US) as "Archetypes"
1974 (MGM Records M8G-4950) 8-Trk (US) as "Archetypes"
1976 (MGM Records 3110-062, 3110062) MC (GB)
1976 (MGM Records 2304 328) LP (F)
1976 (Polydor 23 91 328) LP (ESP)
1979 (Polydor 24 75 685) LP (ESP)
1982 (Verve Records MIP-1-9393) LP (CA)
1982 (Verve Records 23MM 0190) LP (JAP)
1984 (Verve Records 825 119-4 Y-1) MC (US)
1984 (Polydor, Verve Records SPELP 73, 2353 024) LP (GB)
1984 (Polydor SPEMC 73, 3110 062) MC (GB)
1984 (Polydor Records SPELP 73) LP (IRL)
1985 (Verve Records 422-825 119-1 Y-1) LP (US)
1985 (Polydor Records 31 13 098) MC (ESP)
1985 (Polydor Records 23 91 328) LP (ESP)
1986 (Verve Records 825 119-2) CD (US/EU)
1987 (Verve Records P33P-2504) CD (JAP)
1987 (Verve Records 18MM 0583) LP (JAP)
1988 (Polydor 23 91 328) LP (ESP)
1988 (Polydor 825 119-1) LP (ESP)
1990 (Verve Records POCP-1842) CD (JAP)
1991 (Modern Records MOD-1002) LP (AUS)
1996 (Polydor 31453 1251 2) CD (US)
1996 (Polydor 101003) LP (US)
1996 (Polydor 31453 1251 4) MC (US)
1996 (Polydor 531 251 2) CD (GB/EU) (40:14)
1997 (Polydor POCP-9099) CD (JAP)
1998 (Mobile Fidelity Sound Lab, Polydor UDCD 724) CD (US)
1998 (Verve Records V6/5046, V6-5046, V/V6-5046) LP (US)
1999 (ArsNova AN99-0345) CD (RUS)
2000 (Verve Records V6-5046) LP (US)
2000 (Verve Records POCY-9002) CD (JAP)
2000 (Simply Vinyl SVLP 200) LP (GB)
2000 (Verve Records UICY-9135) CD (JAP)
2001 (SomeWax Recordings SW017-2) CD (RUS)
2002 (Verve Records UICY-2335) CD (JAP)
2004 (Polydor UICY-9741) CD (JAP)
2006 (Polydor UICY-6245) CD (JAP)
2008 (V4 Men With Beards 4M155) LP (US)
2008 (Vinyl Lovers 900044) CD (EU)
2008 (Vinyl Lovers 990045) CD (RUS)
2009 (Verve Records UICY-93896) CD (JAP)
2010 (Polydor UICY-20065) CD (JAP)
2011 (Verve Records V/V6-5046) LP (US)
2011 (Verve Records 4605026710412LP (RUS)
2013 (UMe, Verve Records B0019338-01) 2LP (US)
2013 (Verve Records, Polydor, UMe B0019339-02) 2CD (US)
2013 (Universal Music Group International, Polydor 0602537562473) 2LP (EU)
2013 (Universal Records ?) 6xFile, FLAC, Album, RE, 24b
2013 (Universal Music, Polydor, Verve Records 0600753476543) Blu-ray, Blu-ray Audio (EU)
2013 (Universal Music Group International, Polydor 0602537562473) 2LP (EU)
2013 (Polydor, UMe B0019246-02) 3CD (EU)
2013 (Polydor, Universal Records 0602537562480) 2CD (EU)
2013 (Verve Records, Polydor, UMe UICY-75991/3) 3CD-SHM (JAP)
2013 (Polydor, Universal Records UICY-15261/2) 2CD (JAP)
2013 (Polydor, Universal Music Group International 375 624-8) 2CD (Indonesia)
2016 (Polydor, Universal Music Group International 5368369, 00600753683699) LP (EU)
2017 (Verve Records UICY-78245) CD (JAP)
2018 (Polydor, UMe, Verve Records B0019338-01) 2LP (US)
2019 (Republic Records 00602577440069) LP (EU)
---
---