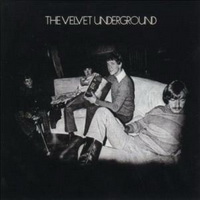 Rok wydania
1969
Wytw鏎nia
MGM Records
Nr. katalogowy
SE4617, SE-4617
Czas trwania p造ty
44:05
Gatunek
psychedelic rock/noise rock/experimental
Utwory
1. Candy Says (4:04)
2. What Goes On (4:55)
3. Some Kinda Love (4:03)
4. Pale Blue Eyes (5:42)
5. Jesus (3:25)
6. Beginning To See The Light (4:41)
7. I惴 Set Free (4:09)
8. That愀 The Story Of My Life (2:00)
9. The Murder Mystery (8:56)
10. After Hours (2:08)
Muzycy
Lou Reed (Lewis Allan Reed)(2.03.1942 Brooklyn, New York † 27.10.2013 Southampton, New York) - lead vocals, guitar & backing vocals
Sterling Morrison (Holmes Sterling Morrison, Jr.)(29.08.1942, East Meadow, New York † 30.08.1995, Poughkeepsie, New York) - vocals, guitar, co-vocal on "The Murder Mystery"
Doug Yule (Douglas Alan Yule)(25.02.1947 Mineola, New York) - bass, organ, backing vocals, lead vocal on "Candy Says", co-vocal on "The Murder Mystery"
Maureen Tucker (Ann "Moe" Tucker)(26.08.1944 Jackson Heights, Queens, New York City) - percussion, lead vocal on "After Hours", co-vocal on "The Murder Mystery"
All songs written by Lou Reed
All songs published by Oakfield Avenue Music Ltd. (BMI) (admin by Screen Gems-EMI Music, Inc.)
Produced and Arranged by The Velvet Underground
Arranged & Conducted by The Velvet Underground
Director Of Engineering: Val Valentin
Mixed by Lou Reed
Mastered by Bob Ludwig at Gateway Mastering, Portland, Maine.
Remastered by Greg Calbi at Sterling Sound, New York
Mastering Consultant: Dennis M. Drake
Art Direction: Dick Smith
Photos of convolutions: Billy Name
Originally released in March 1969 as MGM SE 4617.
The record was produced by the band themselves and originally issued in two different stereo mixes. The more widely distributed version is the one done by TTG staff recording engineer Val Valentin. The other mix was done by Lou Reed, and was dubbed the "Closet Mix" by guitarist Sterling Morrison. This issue uses the Val Valentin mix and predates the remasters.
℗ 1969 Sunbury Mus. Ltd. ℗ 1968 MGM Records, Inc., USA
®© Metro-Goldwyn-Mayer, Inc./Printed in U.S.A. MGM Records-A Division Of Metro-Goldwyn-Mayer, Inc.-Made in U.S.A.
---
1969 (MGM Records SE4617, SE-4617) LP (US/CA) (43:35)
1969 (MGM Records X 4617) Reel-To-Reel (US)
1969 (MGM Records B 84617) 8-Trk (US)
1969 (MGM Records X 54617) MC (US)
1969 (MGM Records MGM-CS-8108, MGM CS 8108) LP (GB)
1969 (MGM Records 665 114, 665114) LP (D)
1971 (MGM Records 2353 022, 2353022) LP (GB) (42:01)
1972 (Verve Records 2353 022) LP (NL)
1978 (MGM Records 2315 393) LP (F)
1980 (Polydor 24 75 686) LP (ESP)
1982 (Verve Records MIP4-1-9446) MC (CA)
1982 (Verve Records MIP-1-9446) LP (CA)
1982 (MGM Records 23MM 0192) LP (JAP)
1983 (Polydor 2488 864) LP (D)
1984 (Verve Records 815 454-4 Y-1) LP (US) (43:10)
1985 (Verve Records 422-815 454-1 Y-1, 815 454-TY-1) LP (US)
1985 (Polydor 2488 864) LP (NL)
1985 (Verve Records 23MM 0433) LP (JAP)
1986 (Verve Records 815 454-2) CD (US/EU)
1987 (Verve Records 18MM 0610) LP (JAP)
1988 (Verve Records P28P 25075) CD (JAP)
1990 (Verve Records POCP-1843) CD (JAP)
1991 (Polydor 849 143-1) LP (D)
1996 (Polydor 31453 1252 2) CD (US)
1996 (Polydor 31453 1252 4) MC (D)
1996 (Polydor 531 252 2) CD (D) (44:05)
1996 (Polydor POCP-2521) CD (JAP)
1996 (PolyGram DG 1822) CD (South Korea)
1997 (MGM Records SE-4617, SE 4617) LP (US)
1999 (ArsNova An99-0393) CD (RUS)
1999 (Simply Vinyl SVLP 110) LP (EU)
2000 (Polydor POCY-9003) CD (JAP)
2000 (MGM Records SE-4617) LP (US)
2001 (SomeWax Recordings SW006-2) CD (RUS)
2001 (Polydor UICY-9136) CD (JAP)
2002 (MGM Records SE-4617) LP (US)
2002 (Universal Music Chile S.A. 531 252-2) CD (Chile)
2006 (Polydor UICY-6246) CD (JAP)
2008 (4 Men With Beards 4M 156) CD (US)
2009 (Polydor UICY-93897) CD (JAP)
2010 (Polydor UICY-20066) CD (JAP)
2012 (Polydor 531 252 2) CD (US)
2012 (MGM Records SE-4617) LP (US)
2013 (Polydor ?) 10xFile, FLAC, Album, RE, 24- (US)
2014 (UMe, Polydor B0022026-02) 2CD (US) (113:28)
2014 (Polydor B0022027-02) CD (US)
2014 (Universal B0022028-01) LP (US)
2014 (UMe, Universal Music Enterprises, Polydor B0021752-02) 6CD (US) (320:47)
2014 (Polydor, Universal Music Group International 602547038654) 2CD (EU) (113:34)
2014 (MGM Records, Inc. ?) 65xFile, WAV, RE, RM, 24- (EU)
2014 (UMe, Universal Music Enterprises, Polydor 602547005069) 6CD (EU) (321:27)
2014 (Polydor, Universal Music Group International 0602547038661) CD (EU)
2014 (Polydor, Universal Music France ?) 6CD (F)
2014 (UMe, Polydor UICY-15355/6) 2CD (JAP)
2014 (UMe, Polydor UICY-76877/82) 6CD (JAP)
2014 (Universal Music Group International 470 386-5) 2CD (Thailand)
2015 (Polydor B0022028-01) LP (US)
2015 (Polydor, Universal Music Group International 0602547038678) LP (EU)
2015 (Polydor 4703867) LP (EU)
2016 (Polydor, Universal Music Group International 5368370, 00600753683705) LP (EU)
2017 (Verve Records UICY-78246) LP (JAP)
2019 (Polydor, Universal Music Group International 00602547038678) LP (US)
2019 (Republic Records 00602577440007) LP (EU)
---
---